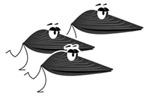 Musselman Half Triathlon


Sunday, July 13, 2014 - 7:00 am
1.2 mile swim - 56 mile bike - 13.1 mile run
[Half: participant list and participant map]
[DoubleMussel: participant list and participant map]
[Aquabike: participant list and participant map]
Race cut-off times apply. The swim course closes at 8:40am, the bike course closes at 12:30pm, and the run course closes at 3pm. Swimmers will be brought to shore after this time and cyclists/runners should expect uncontrolled intersections and aid stations to be unavailable.
an ideal course for beginners and experienced athletes alike - here's why
plenty of aid stations on the course
five splits (swim, bike, run, T1, T2) will be taken for all athletes
DoubleMussel 88.7
Since the mini-Mussel moved to Saturday in 2007, we can offer crazy people - err, dedicated triathletes - the chance to compete in BOTH the mini-Mussel and Musselman Half. Aside from enjoying 88.7 total miles of fun, you get to sleep and eat in between. Fabulous prizes await the men and women will the lowest combined times, and we'll honor those "going for broke" with extra supplies at the medical tent.
Aquabike returns
Thanks to a request from an athlete who wants to compete but can no longer run due to injury, the Musselman is proud to again offer an Aquabike division. Aquabike was formally introduced by USA Triathlon in 2004 and consists of the first two legs of the Half: a 1.2-mile swim and 56-mile bike. Participants receive three official split times (swim, T1, and bike) and start with their age group wave in the Half. Aquabike athletes will be given the same support as all Musselman athletes on and off the course but will not be eligible for awards.
Swim course (1.2mi/1.9km)
The single-loop swim features an in-the-water start and deep water throughout. Waves are typically 110-150 swimmers each, guided by skilled kayakers. Struggling swimmers will be helped to shore. Water temperature is typically in the mid-70's, so expect wetsuits to be allowed.
Behold the interactive map.
Download a printable map.
Bike course (56mi/90km)
The rolling, single-loop bike course debuted in 2008 for the fifth anniversary race. Starting from Seneca Lake State Park, it traverses the byways of Seneca County to the east of Seneca Lake, including long stretches of shoreline on both Seneca and Cayuga Lakes. You'll pass wineries on the Seneca and Cayuga Wine Trails, penitentiaries, small towns, Mennonite farming regions (look out for horse & buggies!), and a shady stretch in Sampson State Park.
Explore the course: [interactive map] [printable map] [cue sheet]
Reassure yourself with an interactive elevation profile.
Run course (13.1mi/21km)
The single-loop run heads west along a lakefront path and winds its way through the city of Geneva. After a quick jaunt through the gardens of Houghton House and quintessential Geneva neighborhoods, the route weaves north through vineyards and the campus of Hobart & William Smith Colleges before returning downtown and a finishing stretch along the same lakefront path from which it began.
Explore the course: [interactive map] [printable map] [cue sheet]
There are some hills on the run - ready yourself with an interactive elevation profile.